Behind the Scenes of our Tassie Photoshoot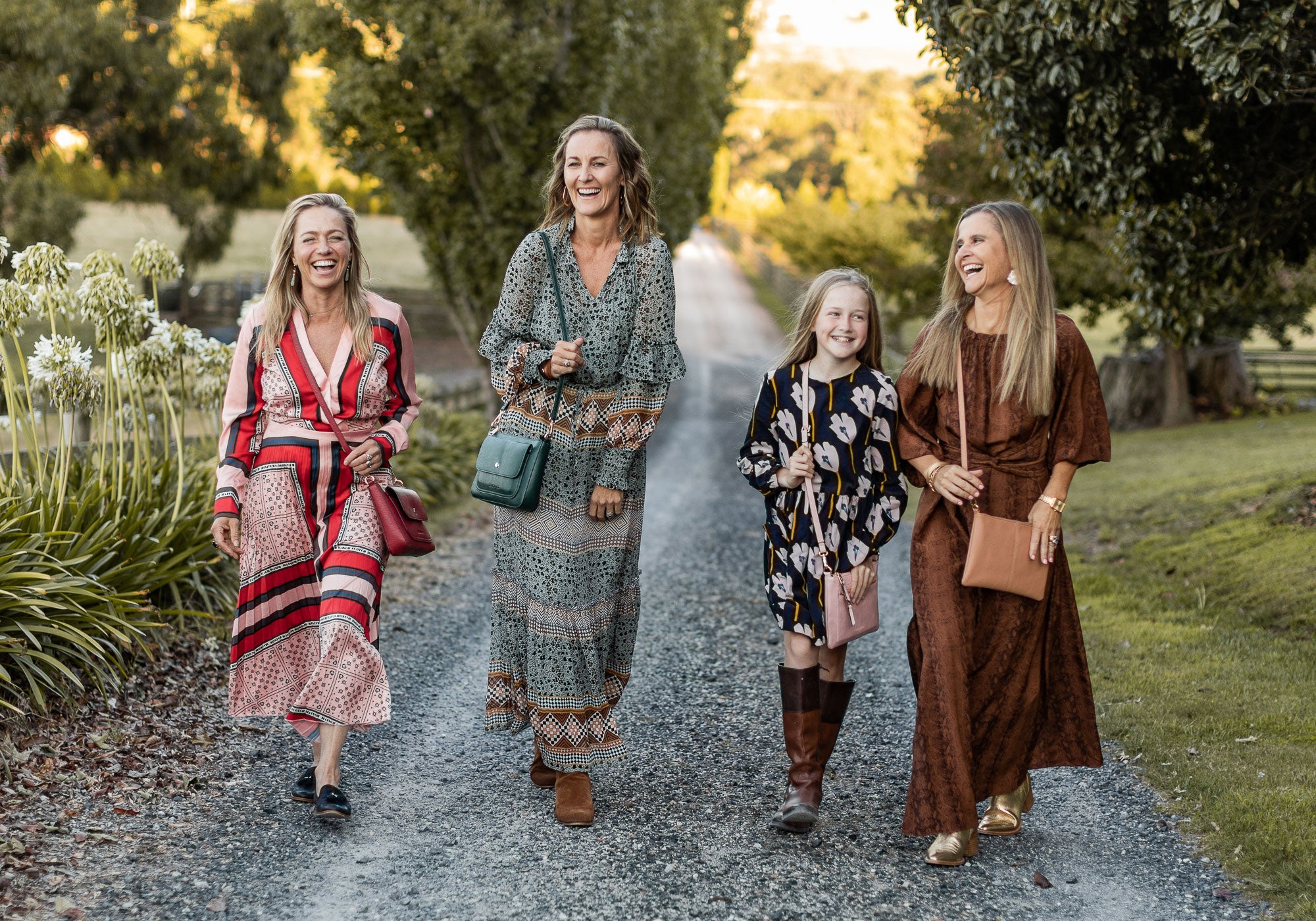 Great ideas always seem to unfold off the back of a 'do we have to do it like this' moment.

Pulling on our winter boots and turtlenecks during the heat of a Brisbane summer is not fun, I can assure you! Your hair is fluffy from the humidity, it's sweaty and no matter how much you spend at Mecca; your makeup always seems to melt off. It was time to reinvent the wheel.

I had the lightbulb moment to ask my very dear school friend, Edwina, who now lives in Tasmania, if we could use her home as a backdrop. Why not, I thought, at least it's cold! She is one of my beautiful creative friends, and I knew she would have the goods, so to speak.

So off we went, heavy suitcases (full of shoes!) in tow. We'd arrived at Westleigh in the evening, and were so excited for the big reveal in the morning! It didn't disappoint. Lush green lawn, a gorgeous agapanthus lined gravel driveway; the glow of early morning light peeking through the trees. It was perfect!
A Life in Colour
Weeni and Mark's heritage home is just divine. Each room has its own colour and unique story to tell. Weeni is a collector, maker, Peony grower and florist; their home and garden is her art. She has an amazing eye for style and colour. You won't find anything black in her house, in fact Weeni doesn't wear anything black either.
Our favourite room in the house was The Green Room. We curled up on the couch, sun streaming through the high glass windows and enjoyed a glass of bubbles. Heidi's Husk dress even blended with the colour scheme! It was so lovely to reminisce on old school stories and of course current affairs (not!). What's said in the green room stays in the green room, AMEN!


The Perks of Being a 'Model'
There's got to be some right? For us it's the wardrobe budget, thank you tax deductions!  

I love shopping, so preparing and laying all the clothes out is my happy place. I splashed out this season with some Scanlan Theodore pieces; they fit me so well and are super comfortable! Heidi and I both love wearing earrings from jewellery designer Murkani, they are delicate and I had the greatest fun rocking gold leather Mi Piaci boots! This shoot is our proudest to date.  
Farm Tour
It wouldn't be a Louenhide photoshoot without a detour! We were so lucky to join Mark on a tour of their vegetable produce company,
Harvest Moon
.
We peppered him with questions, while winding around paddocks tasting the freshest vegetables, picked straight from the source. As farm girls, we loved learning about the whole process, from farm to grocery store. There's everything from robotic bagging machines to customised spinach harvesters. Who knew!
We didn't pr-empt the collection name as we felt these things always evolve for the better. We've named the collection Saffron after Edwina's daughter. Over the shoot we were reminded of the beauty of childhood and the importance of teaching the next generation. Plus, it's a beautiful name, tenacious and rare: reminiscent of the girl in all of us.
Our gorgeous New Arrivals are available online now, we hope you love the new range!
Lou xx
---