The Perfect Christmas Gift for Every Woman in Your Life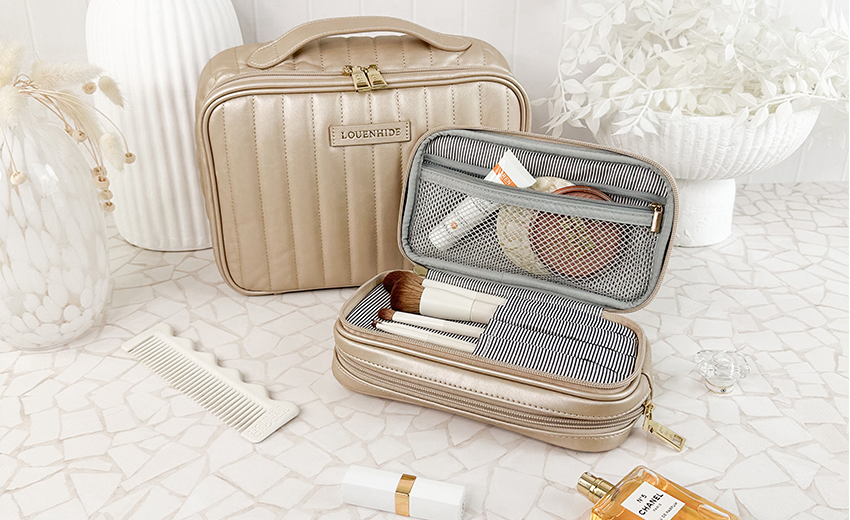 Whether you're choosing a Christmas gift for your mum, wife, girlfriend, daughter, sister, or best friend, you want to select something that she will love and cherish. Our secret to finding the perfect Christmas gift for her? Look for something that will make her feel great, but she might not invest in for herself.


The right handbag or accessory can completely make an outfit. It elevates your wardrobe and gives you more options for mixing and matching. It's an uplifting gift that any woman would love to receive.


Let's face it, we all need to carry our essentials and the right bag helps women to transform effortlessly, no matter what the day ahead brings them.


So, if you're searching for the perfect Christmas gift for her, just pick a shape, style, and colour to match her wardrobe and favourite hobbies.



The Traveller
Know someone who likes to pack up and go for a weekend away at any opportunity? A travel bag is the perfect gift for the woman who likes to make a seamless escape. Make sure that it's spacious and has plenty of internal compartments for her essentials.
Bonus points if you can find a travel bag with an alternative strap. We're not all good at packing light and an additional strap will let her carry her bag with more ease. She'll be full of excitement when she slips out the front door with a bag like the Alexis Weekender, made of luxe vegan leather that is also easy to clean. 

The Working Woman 
Women want to feel great in the office and an elegant work bag can help them make an entrance. She'll be using it most days of the week, so make sure you pick something durable and sturdy. Look for a flat and studded bottom that can help the bag stand up under her desk or on the bus. A structured shape will also add a crisp, corporate look to her work outfits.
If you can get a sneaky measurement of her laptop, then why not select a laptop bag that will protect her laptop when she travels back and forth to the office? The Manhattan Tote Bag is a sleek staple that won't look out of place at after-work drinks either.



The Mum On the Go
Mums need bags that work harder. If you're looking for a Christmas gift for a mum, then remember that she'll need something with plenty of space for fitting in nappies, baby wipes, and toys. Internal compartments keep her essentials separate and save her from rummaging through her bag when she's on the go.
Look for a material that's easy to wash, because as all mums know, accidents happen. The Portsea Tote has a relaxed silhouette and can transition into an everyday bag when the kids start growing up.












The Party Girl
If you know a girl who's looking forward to New Year's Eve more than Christmas Day, then an evening crossbody bag will be the perfect gift for her.
A crossbody is easy for her to sling across her shoulders as she dances the night away. If you can find one with a detachable strap she will be able to convert it into a cute and elegant clutch.
Most party girls like to make a statement. So, make sure you pick a style that suits her personality and a colour that will match her favourite evening outfits. You might even want to try something with a little bit of metallic details or a little bit of sparkle.
Want to play it safe? The Jacinta Crossbody is the ultimate cool-girl bag, with a classic and preppy shape.


The Jewellery Collector
This lady already knows how to accessorise. No matter where she goes, she's dripping from head to toe in jewels. Of course, she needs the perfect little jewellery box to take her favourite pieces with her (or to keep them on show at home).
It's hard to go wrong here, you just need something pretty, petite, and organised. The Olive Jewellery Box for example has a plush lining that won't leave a mark on her precious jewels, as well as space for her necklaces, bracelets, and rings.










The Gym Lover
She's already done a workout before you've had a chance to say good morning. Gym lovers know how to get out the door quickly and they're constantly looking for a throw-and-go bag that fits their car keys, phone, and maybe a small wallet. 
If they can walk or drive, you know what option they will pick. A sporty crossbody bag is all they need to make their life complete. The Cali Nylon Crossbody is a little bit utilitarian, but ultra pretty and can take her from gym to brunch.





The Beauty Therapist 
She always has lipstick on hand and powder close by. She's your saviour when your make-up needs a touch-up on a night out and she has tried and tested just about every skincare product out there.
If you know a lady who can't leave her beloved beauty products behind, then you can bet that she'll love having a new cosmetic case for Christmas.
Look for a sleek, foldaway design with multiple compartments for her brushes, foundation, blush, mascara, and the rest of the items she can't live without. The Rosie is a versatile makeup case (and stocking filler) in a beautiful quilted fabric that's perfect for organising her beauty essentials.







Still looking for a unique Christmas gift for her?
There's no need to leave it to the last minute. Louenhide loves to make everyday elegance accessible and we've put together a curated Christmas gift guide for every budget.


Shop Christmas Gifts for Her





---